Unesco Project School
---
Marienau School has been a member of the UNESCO Project School network since 2003. As a member of the network, we share the values of the UNESCO Charter regarding human rights, international peace and understanding, protection of minorities, tolerance, environmental education and cross-cultural understanding. Marienau is able to offer its students opportunities for a peaceful, culturally diverse life even after their time at school.
International Diversity
---
The daily mission of our education is to anchor the concept of a peaceful and tolerant world in the heads of our children and young people and there are opportunities to experience that in our life together at Marienau.
International students from many different countries come to us for their education, whether it's for a year or to stay and do their Abitur. They bring the world to Marienau.
From Marienau To The World
---
Marienau also maintains a number of formal partnerships with other schools abroad, aside from the contacts built up with schools through admissions of individual students. Trips and exchanges offer the opportunity at various ages to discover the world. All visits abroad and relationships built up through exchanges strengthen the cross-cultural skills of our students.
Skills
---
It's fantastic to have the chance at a young age to expose yourself to something new and develop sensitivity for situations in other cultural contexts. Of course, stays abroad improve language skills in a way not available at home. It's a challenge and at the same time a real achievement when one can take class learning and have to and indeed, be able to, put it to use in real life.
Marienau School has been taking students from abroad for many years which has encouraged mutual learning.
Our international students enhance school life and add to the Marienau network, whether they come for a six or twelve month stay or to stay on and do their Abitur. At present, we have students from Spain, Italy, China, Mexico, Columbia, Vietnam, South Korea, Turkey and the USA. A former Marienauer, whose children now go to school here too, put it like this: "Which other school enables my children to get to know the world here in Marienau? That is a real privilege." The friendships made at Marienau are often bonds for life.
Before and during their stay, the International Team assist the students from abroad with visa applications, organising German as a Foreign Language (DaF) lessons and supervision of holidays and weekends. for further information feel free to contact us anytime. Rana Raslan is head of the internationl team and glad to receive your questions.
International Team
---
More information about our work with international students
herunterladen
---
Contact
---
Head of the International Team
Rana Raslan - Alaoui
+49 (0)5851 941 55
---
Would you like to spend a year abroad in a German speaking country? Come to Marienau!
Great to see you!
Marienau is a state-registered, boarding and grammar school in northern Germany, not far from the town of Lüneburg and about 80km south east of Hamburg and its international airport.

About 140 students live at the boarding school and they come from Germany, Europe and other parts of the world, although we ensure that the proportion of international students does not exceed 15 per cent. We regard this cultural diversity as an enrichment of our life here. Students at Marienau are in small classes.

We are very proud of the large network which we've built up in Mexico in the last few years and we nurture these relationships in Mexico beyond the time students spend at school. We especially value the personal contact to students and parents through telephone calls, video conferences and email. The various public bodies have been especially helpful and supportive of us during the pandemic even with reduced working hours. We have hardly had to use the excellent health services in this region as there have been so few Covid cases in this district. Frau Rana Raslan-Alaoui will be delighted to answer any further questions you may have.
Presentación
---
Informaciones para estudiantes de México
herunterladen
---
Marienau
abroad
Widening your horizons is an important part of developing a well-rounded character. This is why we encourage and offer school trips to other parts of Europe and beyond. We provide several opportunities to improve foreign languages and enable our students to get to know other countries.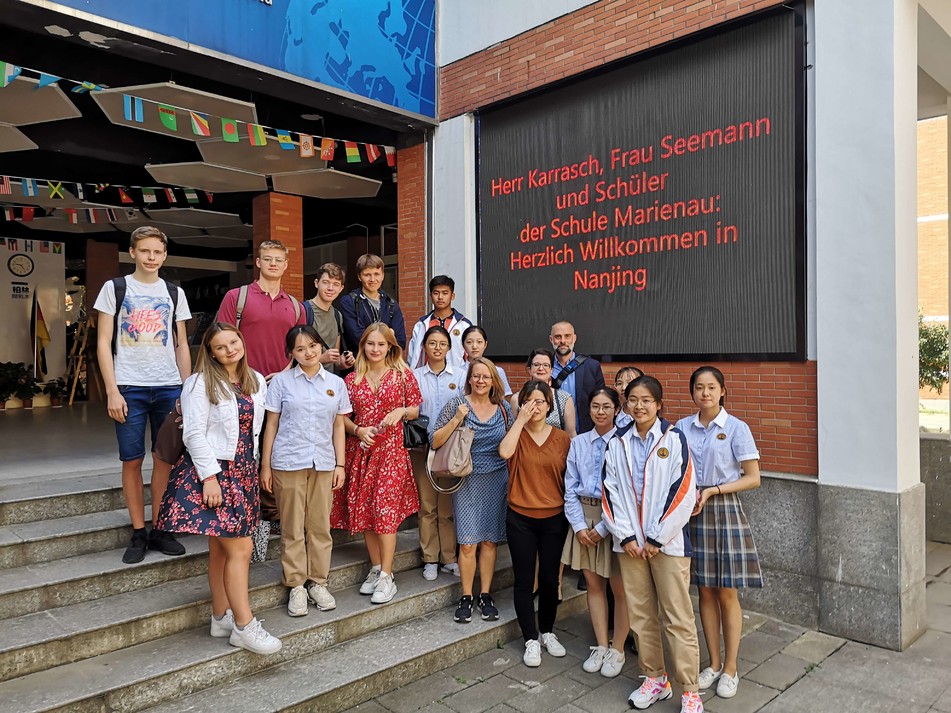 Trip to America
---
In Year 9, students travel abroad to an English speaking country, normally the USA. Most of the time the young people will stay with guest families where they can improve their English skills.

The rest of the trip is spent as a group with accommodation appropriate to the numbers. The trip includes school visits as well as an extensive cultural programme with sightseeing and guided tours. The trip is for approximately three weeks and is supervised by two members of staff.
School Exchange
---
In Year 10, students can apply to participate in the school exchange with our partner school, SISU Bilingual School. Participants spend about 10 days enjoying the hospitality of a Chinese family in Shanghai and then take in an exchange student themselves.

The three month exchange with the German school in Osorno, Chile is an individual exchange programme and part of the offer is also to take an exchange student into the boarding school or into one's own family. This programme is aimed at Year 11.
NAU Project International
---
Also in Year 11, our students have the choice to take on an individual challenge. For many this means deciding to spend more time abroad. Within the parameters of the project, it's possible to travel within Europe and thereby strengthen their knowledge of a first or second foreign language.
My Year Abroad
---
Since we moved back to the G9 system, which means taking the Abitur after thirteen school years, there's the opportunity for our Year 11s to spend some time abroad at school. Many choose to spend the first half year of Year 11 doing this so that afterwards they can pick up where they left off with the Upper School curriculum without the need to repeat a year as they advance into their Abitur years.
Shanghai, China
---
Our partner school in China is the Shanghai International Studies University Bilingual School or SISU Bilingual School for short. It's based in the education district of Yangpu and has been in a partnership with Marienau since 2012. The purpose of the exchange is about the cultural experience. The participating students from Year 10 spend about 10 days in Shanghai. They live with host families, learn about Chinese school life and get to know Shanghai, one of the biggest cities in the world. We use English as the method of communication. The group of Chinese students who come to Germany live for several days at Marienau and then a weekend with a German host family. Sabrina Panning is your contact for all matters regarding the Shanghai programme.
Osorno, Chile
---
We've been operating an exchange programme with the German School in Osorno, in the south of Chile, since 2012. Our students are taken into a host family in Osorno for three months where they also go to school for several weeks and get to know the country and its culture. Directly afterwards, the Chilean exchange students spend three months in Germany where they also take part in classes. If the Marienau student is at the boarding school, then the Chilean students go back and forth between boarding school and family. Inés Mercado is the lead for the Chile exchange programme.
Mexiko City
---
Marienau has been working closely with the German school in Mexico City for a number of years. The school has three sites in the capital and together they send their students to Germany for a stay of several months. Most of them stay for a full school year. Many of them decide to stay longer and do their Abitur here. It means that we now have a large, alumni family in Mexico which we're very proud of, a family which Marienauers even after their time at school go to visit as friends or to deepen their Spanish knowledge. For more information, please speak to Rana Raslan-Alaoui.
Life On Board
---
The founders and operators of the High Seas School are the Hermann Lietz Schule in Spiekeroog, also a member of the Boarding Schools Association. After a stop in the Canaries, the journey continues over the Atlantic to the Caribbean, to Panama, Cuba and back to northern Germany.
This opportunity for a nautical adventure is aimed at young people who are curious about other countries and cultures. You don't have to have any experience or knowledge of sailing but involvement in sport or culture and, above all, the willingness to take responsibility are necessary, especially as students are seen as part of the crew and its operations.
Classes On Board
---
Four teachers will be holding lessons on board, with the curriculum following that set down by the Lower Saxony regional government. Participation in the lessons is recognised under German educational law and at the end of the journey, students receive a certificate which is included in the year's final mark.

Several Marienauers have already taken part in this unique experience on the high seas und were absolutely delighted. If you would like to know more, we'd be delighted to put you in touch with the right person. You can also read more on the page of the High Seas High School -Project.
Volunteers in Marienau
---
Marienau has been offering voluntary work placements for several years now. The volunteers support the work of the teachers and social workers during a one year stay. They play an important role as assistants in foreign language lessons, supervise clubs, societies and organise leisure activities at weekends. Through the use of international volunteers, we can encourage a multi-national focus among the staff as well as students.

We've hosted volunteers from India, South Africa, Uganda, Tanzania, Spain and France and really appreciate their input. At present, our volunteer is Andy from France, who's here for a year through the European Volunteer Corps.
Partnership
---
Our partner for cultural exchange placements is Via e.V., an association for international and inter-cultural exchanges. Via organises stays abroad which give young people an intensive experience of living and working in other countries and communities. The programme is for young people who live in Germany and want to explore the world, as well as for young people from all over the world who want to have a similar inter-cultural experience here in Germany. 
Marienau School gains from this inter-cultural exchange which enriches the learning and life experience of our students and staff. Tobias Karrasch, Head of the Boarding School, is your contact for matters concerning Via and inter-cultural exchanges.